Lauren
Ruth
Ward
"Valhalla"
Director: Alli Coates
Cinematographer: Lidia Nikonova
Producer: Kristen laffey
Starring: Lauren Ruth Ward Madison Paige Bobby Coyote Elyse Cizek Victoria Ortiz Brittney Garcia Ken Schmidt Sam Teaford Michael Q. Schmidt
Super 8 footage: Tess O'Connor
1st AC: Jackie Vresics
2nd AC: Alex Farias
Gaffer: Alex Kurbatov
Key grip: Alex Kernison
Swing: Chi Un Min
Editor: Alli Coates
Color: Ayumi Ashley at Ntropic
Production Design: Lauren Ruth Ward
Art Assistant: Vianne Robitaille
Styling: Bobby Coyote
Hair and Makeup: Emma Cole
Associate Producers: Alex Pomerantz and Ben Kurzrock
Production Assistant: Ruben Travino
Reptile Handling: Pups and Reps LA
Produced by: Ramble West Productions
Label: Future Classic
Executive Producer: Justin Benoliel
Producer: Zoe Shields
Director of Photography : Matthew Chavez
Editor: Steve Rees, Sunset Edit
Colorist: Andrew Balis, Wildfire Post
1st AD: Jesse Hays
2nd AD: Dylan Griffith
1st AC: Michael Lincoln
Gaffer: Corrin Hodgson
Key Grip: Jimmy Viera
Dolly Grip: Adam Viera
Driver/Swing: Andrew Fisher
Production Designer: Fresh Carerra
Art Director: Michelle Hall
Art Coordinator: Eja Wong
Wardrobe Stylist: Karolyn Pho
Hair & Makeup: Sasha Borax
PA: Jay Elliot PA: Emerson Theus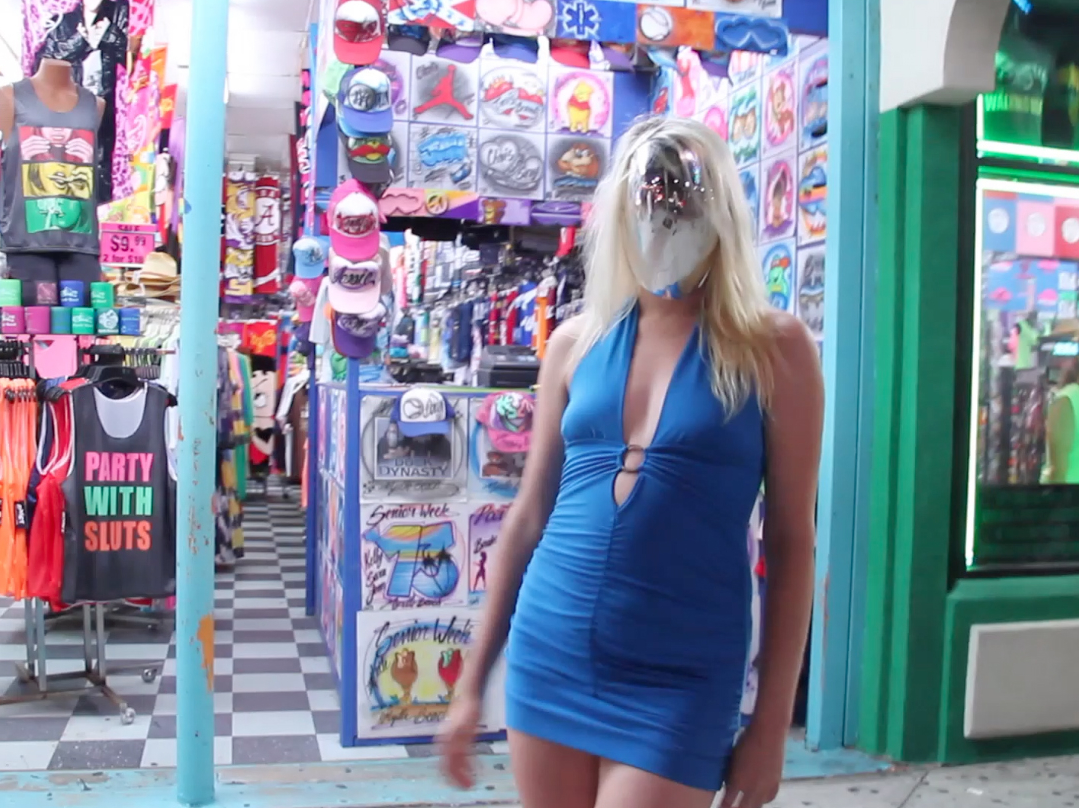 [SHORT FILM]
 
DIRECTOR:
ALLI COATES
starring:
signe pierce
American Reflexxx was my first short film. I put it online in May 2015, and it went viral immediately, amassing over 1,000,000 views in a week. The art house film screened at both film festivals and art institutions internationally, from the Spring Break Art Show in NYC to the Palais de Tokyo in Paris, and many others.
Synopsis:
American Reflexxx is a short film documenting a social experiment that took place in Myrtle Beach, South Carolina. Director Alli Coates captured performance artist Signe Pierce as she strutted down a busy oceanside street in stripper garb and a reflective mask. The pair agreed not to communicate until the experiment was completed, but never anticipated the horror that would unfold in under an hour. The result is a heart wrenching technicolor spectacle that raises questions about gender perception, mob mentality, and violence in America.
WINNER - THE PUBLIC AWARD 2017
14th Festival International Signes de Nuit, Chambéry, France
SPECIAL MENTION - SHORT FILM AWARD 2017
15th Internationale Festival Zeichen der Nacht, Berlin, Germany
WINNER - SIGNS AWARD 2016
14th Festival Internacional Signos de Noite, Lisbon, Portugal
WINNER - BEST SHORT FILM 2016
XPOSED International Queer Film Festival, Berlin, Germany
WINNER - THE NIGHT AWARD 2016
Internationales Festival Zeichen de Nacht, Saarbrücken, Germany
Cinematography: Matthew David Chavez
Producer: Mia Swier
Starring: Bunny Michael, Rossen Bialomorsky, Annie Frame, Brigitte Rey, Cashawn Sims, Dace Burkevica, Kelly Kai, Liryc Suicide, Lola Albright, Stephanie Nidess, Zoe Sloane
Stylist: Alanna Pearl
Hair: Larissa Benavidez
Makeup: Jill Colwell and Eden Mills
Gaffer: Team Bashet Key Grip: Matt Brown
Casting: Zoe Sloane Editor: Alli Coates
Colorist: Marika Litz

Director: Andrew Nisinson
Creative Director: Alli Coates
Starring: FLUCT (Monica Mirabile and Sigrid Lauren)
Music: HD
DP: Bob Blankemeier
Editor: Rhys Stover
Producer: Louisa Mardirossian
Production Designer: Tafv Sampson
Hair and Makeup: Soleil Atiles
Director: Alli Coates
Cinematographer: Sarah Tricker
Gaffer: Lori Dinsmore
Hair: Ashley Rubell
Sound: Hayley Wagner
Producer: Maris Bodell
Editor: Ryan Drake
DOCUMENTARY FILM
[in production]
 
DIRECTOR:
ALLI COATES
A story of small town queer pioneers.